Guiding Your Teen Through Adolescent Health Issues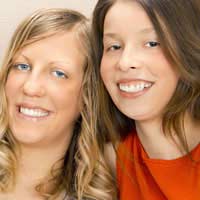 The teenage years are a minefield, not only for the teens themselves, but also for parents - in fact, maybe even more for them. That's because parents know a lot of what to expect, and just how much is involved in being a teenager.
Health is a vital issue. The vast majority of teens have no problems beyond the usual, staying perfectly healthy apart from common bugs. But others can suffer from a variety of things, ranging from meningitis – which isn't just a childhood disease – to anorexia. In many cases there's nothing you can do to prepare your teen for what might happen. All you can do is be there to help them through the illness.
Identifying Teen Health Issues
The big question is what exactly
is
a teen health issue, and the answer is that there isn't one. They overlap childhood and the adult years, so meningitis and juvenile epilepsy can and do occur. But there are also adult issues, such as sexual transmitted infections, body issues (meaning anorexia and bulimia), and a host of other things; they're on the cusp and liable to be hit from both sides.
What Can You Do?
In the event of a serious medical issue, you need to call your doctor or take your teen to an A&E immediately. Don't wait and wonder whether they're really ill, simply go ahead and do it. It's better to be wrong and find they're really not so ill than to procrastinate. In the case of something like meningitis, time is of the essence.
In a number of cases your role will be making sure they get to the GP or to hospital appointments and that they take their medication when prescribed. You might need to nag, but it's important, especially in the case of something like juvenile epilepsy, where medication can help prevent attacks.
You also need to be part of the team educating your teen in the ways to cope with their illness, where it's something requiring ongoing treatment. As the one who's with them most, you're effectively the team leader. If they feel down about the illness, you have to encourage them and be their guide through it all, which isn't easy, and can be a thankless task at times. Sometimes it also involves educating their friends as to what they should do in the event of a seizure, as with epilepsy.
More often it's a case of being there. That might mean visiting them every day in hospital if they're a patient, pampering them a little at home as they recuperate, or just being available to talk or offer company when they need it.
Other Issues
If the problem is something like anorexia or an eating disease, which some girls do suffer from, your role becomes a little different. If your teen isn't hospitalised for treatment, you become part counsellor, part nurse, and, to an extent, part jailer. You have to watch your teen carefully during treatment, encourage and still be firm – it's a difficult balancing act to maintain.
You can certainly try to prevent your teen ever suffering from a sexually transmitted infection by educating them about the dangers of unprotected sex – which, of course, are far greater than pregnancy. Make sure they always carry condoms, just in case, and although you can never be certain they'll use them, encourage them to do so.
You might also like...
Just need help with what going no matter what i love her but she really make think up aboyt me hurtibg me cause others think its true lot more to the story but dont and wont give up causevi dont blame her um her mum and i no every one just see a noughty kid dibe mst theripy last hope dobe have parebt class sibce 5 she 12 now ss no im brusing were shes hitting me abd dont care
lynny
- 8-Sep-15 @ 11:03 PM