Single Parents and Teens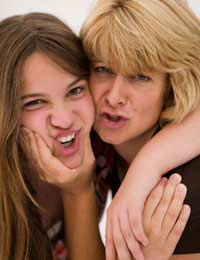 It's difficult being a single parent. When your children are young, though, they tend to respond more easily to a parent. In adolescence, though, they want to spread their wings more and gain more independence. That may mean an especially tough time for a single parent, the only symbol of authority in the home.
Some studies have shown that teens from single-parent households can show a greater rate of delinquency and tend not to do as well at school, although always it's dependent on the familial relationship – generalisations are just that, and statistics can be made to say different things.
How can single parents cope with teens?
The Bond
One advantage single parents often enjoy is a tight bond with their children. The child has been forced to rely on one parent, and is often more open with them than they might be with both a father and mother around.
That can help during the teenage years, making it easier to discuss more delicate issues and address problems as they arise. Of course, identifying those problems can become harder. A single parent is likely to be at work all day, and with the teen gone more than a younger child, there's less contact, so you might not know as much of what's going on in your teen's life.
Communicate as much as possible, and use that bond to remain close if you can. It's natural for teens to talk less about their lives as they grow older, but encourage it.
The Ex
In many cases, your ex will have stayed close to the teens, even if the things they share are different to you and the teen. Where you have a good relationship with your ex, don't be afraid to call and discuss issues involving the child and develop a strategy between the two of you – it certainly stops the teen playing one parent against the other, and means you show an important united front. After all, you both love your child and want the best for him or her.
If relations aren't so good, but your ex still sees the teen regularly, that can cause problems. You won't know what's happening on visits. All you can do is encourage good communication with your teen. If serious problems arise, contact your ex and see if the two of you can work together to help your teen.
Problem Behaviour
Teens rebel against parents, it's the way of the world. But if you're a single parent, you're the constant target of rebellion, and it can become both wearing and stressful; there's no down time where another parent can take over.
As much as you can, you need to be constantly vigilant, so you're aware early of any trouble with drink, drugs or other things. That doesn't necessarily mean spying, unless you really suspect something's wrong, but you have to keep a detachment to see your teen as objectively as possible.
Praise the good things, and try to discuss areas that concern you, but without being openly critical, unless the behaviour is unacceptable or worries you. Empathise as much as possible (you probably remember being a teen yourself) and try to see things from their point of view.
Talk to other parents, gather their views – a problem shared can really seem like a problem halved, and other might have excellent advice. If you have good friends of the opposite sex that your teen trusts, bring them in and have them talk to the teen. Use the resources available to you that can help both you and your teen.
You might also like...