Common Chores for Teens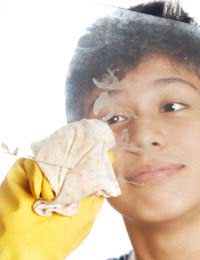 Teenagers need to do chores. As teenagers navigate their way from childhood to adulthood they need to learn to take on more responsibilities and contribute to their own household. Not only do household chores allow an adolescent to be in control of something and learn how to take responsibility for his or her actions, but they teach him or her important life skills that will be needed when he or she is running a household in the future. Most chores that teenagers do well with are associated with cooking and housework.
Teenagers and Responsibility
Teenagers learn from having responsibilities of their own. This does not mean that teenagers will not make mistakes and act irresponsibly, but learning from these mistakes is an important way for teens to understand the impact that their actions can have and why being responsible is necessary when people depend upon each other. Parenting, then, requires adults to step back and allow teenagers to fail or succeed with their responsibilities on their own. If teens seem to fail more often then not, then discussing their responsibilities and finding out why they are having trouble is important. When parents and teens are on the same page regarding what it takes to be successful the chances of this occurring will rise.
Teenagers and Cooking
Many parents do not want their children to cook on their own and this is understandable. However, teenagers are not children. Once teens have been taught proper kitchen safety and basic recipes, encouraging them to explore good nutrition and their culinary talents will help them feel comfortable in the kitchen before they need to fend for themselves all the time. To this end, expecting teens to prepare the menu for, and cook, a meal a week is a good idea. Many teens will be pressed for time and money so allowing them to add their needed ingredients to the family shopping list is smart, but expecting them to work within budgetary constraints and dietary guidelines will help them become familiar with these obstacles early on. After a few months teens will likely be able to count cooking as one of their talents and the family will hopefully begin to enjoy a range of new dishes on teen cooking nights.
Teenagers and Housework
Most teenagers do chores around the house. Keeping their own bedrooms clean, changing and washing their linens, doing their own laundry, pitching in with the ironing, helping to keep common areas neat, taking out the rubbish bins and sorting recycling materials are all chores that teens are more than qualified for which to take responsibility. Parents should be careful to maintain that chores are a teen's responsibility, however, and not descend to bribing or rewarding teens for taking care of the chores that they should be completing as a matter of course. Keeping a chore chart may help everyone in the family remember what needs to be done, but awarding teens stickers or stars might be seen as too babyish for teens.
Teens learn responsibility and life skills from completing household chores. Expecting your teen to complete consistent chores will help the whole family maintain take responsibility for keeping a lovely home.
You might also like...