Teens and Online Friends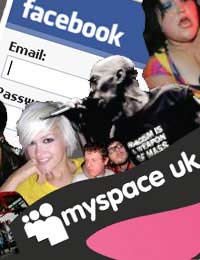 Today's typical teen has many online friends and may even boast about online dating. For parents unfamiliar with advances in social networking, such versions of friendship may seem ridiculous, dangerous or otherwise cause for concern. While there is always a risk in connecting with someone online, online friends and online dating won't be going away any time soon. Instead of fearing them or forbidding them, parents might want to take the time to investigate social networking online and discuss with their teens proper safety precautions and expectations of online friends. Through consistent communication there's no reason that parents and teens can't both become more comfortable with each other's thoughts about online friends.
Social Networking Sites
Social networking sites which allow users to connect and "network" for entertainment or social purposes have become incredibly popular in the past few years. From MySpace to Bebo to Facebook, these sites allow users to create accounts, add information about themselves, post pictures of themselves and then reach out to connect with other users. While some people do use these sites to connect only with people they know in "real life", others enjoy "meeting" new people and making new friends with those they know only from their online accounts. Many teens find these sites a lifeline for making new friends with similar interests who may not be geographically close to them.
Online Chat
Online chat programmes abound, from AOL's Instant Messenger to Gmail's chat facility. These programmes allow people to communicate directly in a private way so that others can not intrude on the conversation unless they are invited. In order to start such a conversation, both parties must know the other's username so communication prior to the chat is generally a necessity.
Online Dating
Online dating is an emerging market on the Web with sites such as Match and eHarmony making headlines across the world, and smaller sites serving particular geographic areas. Most teens would not be able to use general dating sites as an age requirement of 18 years or older however teens may use the phrase "online dating" to mean other things as well. For instance, a teen who has an online date may mean that they have made a plan to meet online and chat at a particular time, or that they used an online medium such as a social networking site or chat programme to arrange a meeting in "real life".
Consistent Communication About Online Friends
Once you understand the basics of communicating online discuss your views about such activities with your teen. Explain how you feel about social networking, chat programmes and/or online dating and ask your teen how and why (s)he uses these mediums. Ask also about the people (s)he is meeting online and be sure to remind your teen of basic safety tips such as keeping personal and financial information private, not sending photos or agreeing to meet up with strangers and not disclosing contact information to strangers. If you feel comfortable, consider setting up your own social networking accounts and check your teen's pages and profiles as desired. Be aware, however, that some teens may feel that they are being spied on or that you would be invading their privacy by such actions so be prepared for such consequences.
Most teens today have a variety of online friends and appear open to new online friendships. If you are unfamiliar with these terms or the variety of social networking platforms available to your teen, consider investigating more about online friendships so that you can be sure your teen is being both smart and safe in their online interactions.
You might also like...