Your Teen's Wardrobe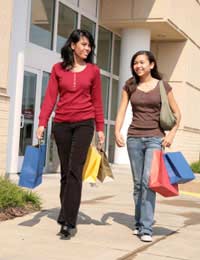 Teens often use their wardrobe as an extension of their personalities, so like teens themselves their clothes can be provoking, frustrating and even completely surprising to their parents. However, parents are often the source of funding for these clothes and if they have household rules regarding wardrobe choices then these regulations should be discussed openly. Parents should also strive to understand the trends that their teens conform to, as popular culture often provides another set of rules that a teen's wardrobe tends to follow.
Household Rules Regarding Teen Wardrobes
Just about every parent feels differently about their teen's chosen wardrobe. Before setting down any hard household rules regarding teen clothes, parents should consider a few pertinent questions. To begin with, how much clothing does your teen need? If (s)he regularly wears a uniform to school then the amount of clothing that (s)he has control over is considerably lessened. If, however, (s)he needs to work every day or requires special outfits for a certain activity then his or her wardrobe will likely become more extensive. Next, what type of clothing does your teen need? If (s)he must look presentable then it is likely that (s)he will need both more dressy as well as more casual clothing. Also think about the condition of the clothes you would like your teen to wear. If you won't tolerate ripped, stained or wrinkled clothes then you need to have on hand solutions for how to deal with these problems when they do occur. Finally, consider the image that you would like your teen to project. If short skirts and tops, slouchy pants, and/or clothing with inappropriate messages or designs are not acceptable to you then you need to make sure that your teen knows this.
Understanding Popular Trends
As parents you'll need to take off the rose coloured glasses and understand that regardless of your household rules most teens would rather conform to the popular trends than your wishes when it comes to their wardrobes. One way to mitigate the arguments that could arise is to stay current with popular trends. Understanding how, and why, teens want to dress the way they do will not only give you great insight into your teen's preferences but also his or her personality. It may also allow you to find a common middle ground that accommodates your teen's wishes as well as your own desires when it comes to setting household teen clothing rules.
Dealing With Delicates
Most arguments regarding teen wardrobes centre around the clothing that can be seen by others, but don't forget that you may need to address your teen's underclothing as well. It can be hard to talk about "unmentionables" with teens, so taking a matter of fact attitude might be helpful. For example, asking your son if he prefers boxers and briefs and in which size will net you all the information you need to know for buying his underwear in the future. Similarly, if you feel it is time for your daughter to be fitted for a bra then taking her to a store in which the saleswomen can confidently measure her will help lend a professional air that will help lessen any embarrassment. Every now and then checking in if your child needs new underwear will help you know that (s)he has a good foundation for his or her wardrobe.
Teen wardrobes can be an inflammatory topic, one that can cause passionate disagreements between teens and their parents. By setting a few house rules, staying current on teen trends and making sure that your teen has appropriate undergarments parents can help defuse these disagreements and restore a degree of calm regarding their teens clothes.
You might also like...