How to Deal with Teen Drinking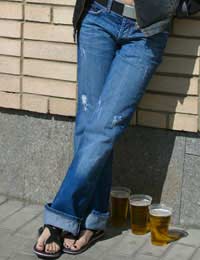 You might as well face the fact that at some point in their teenage years, your child will drink. It's part of growing up, becoming adult and testing boundaries. After all, most adults drink in Britain, the vast majority responsibly and in moderation.
But teenage drinking is a definite problem. Too many teens drink too much and too young - getting drunk has become part of a normal weekend for so many teenagers, whether in clubs or pubs, in parks or on the streets, at parties or at home.
What can parents do to stop the excessive drinking and teach teens to imbibe responsibly?
By Example
If you don't drink to excess, there's a good chance your teen won't, either. Some say that the home is a good place to introduce teens to alcohol, and letting them experience the fact that a little, with a meal, can be pleasurable. More than that, it's a controlled environment where you can monitor and limit how much they drink. But you should also look at your own drinking habits: the more you drink, you more your teen is going to see that as acceptable and copy it.
It's probably best not to let them drink in the early teenage years. At that point their bodies haven't developed enough to really cope with alcohol. By the time they're around 16 they should be able to process it more easily.
With Their Friends
Peer pressure can be an insidious thing. It often leads to excessive drinking, both among boys and girls. When your teen is out with friends there's little you can do to stop them getting drunk. But if you teach them about the dangers of alcohol, you can at least minimise the impact. Remind girls in particular that when drunk it's all too easy to end up having sex, for example. Also that no one should ever leave a drink unattended, whether in a pub, a club, or at a party. They don't know what someone's going to slip into it and what might happen after.
Alcohol can fuel aggressive behaviour. Emphasise that to your teens. Tell them it's okay to move to soft drinks if they begin to feel drunk, and not to mix drinks. You might not convince them to stay away from alcopops' or designer drinks, but strongly suggest they stick to one kind of alcoholic beverage all night. Remind them that they don't have to keep pace with the fastest drinker in the group.
If they're going out to a party or a club, make sure they eat a good meal first; it will help absorb the alcohol and reduce the possibility of drunkenness.
Teens And Drunk Driving
Teens feel they're indestructible, and often don't even realise they're drunk. An American idea that can help protect your teen from drunk driving is a contract between parents and children. They pledge never to drive drunk or get into a car with a friend who's been drinking. In return, you agree that they can call you at any time, even 4 a.m., and you will come and pick them up. It's not something to moan about when you're doing it. In fact it's promoting responsible behaviour and you should praise the teen for mature thinking.
If they're out with friends and the friends are drunk, tell them they can always call you and you'll come and pick them up and take them home.
They will drink, and some of them will get drunk for the first time, and pay the price the next day. It's experience, and all you can do is help them learn from it and make sure nothing bad happens as a result.
You might also like...