Fostering Teen Independence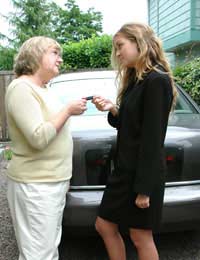 One thing in life that you can't stop is your teens growing. Yes, part of that means them growing away from you, but it's inevitable, it's the way of becoming an adult. It might hurt to see it happen after looking after and nurturing them for so long, but just as they need to find themselves, so also do you need to let them go.
Obviously it doesn't happen overnight. But from the age of around 13, in small steps, help them to become gradually more independent. That way, when they do finally leave, it won't seem so bad for you – or them – and along the way you'll have a teen who's becoming more confident about themselves and about life.
Practical Measures
From the age of 14, is there any reason your teens can't wash their own clothes? Of course not, although they'll imagine there are, and you almost certainly won't catch them ironing, particularly boys. But you'll be doing them a favour if you give them responsibility for more things surrounding their appearance.
Similarly, instead of going shopping for clothes with them, give them the money to go and do it themselves – with the possible exception of school uniforms. You might not like some of what they buy, but that's part of the process, and you'll know that everything is completely their choice.
The same applies to haircuts, or even a lack of them. Once they're old enough, let the decisions be their, not yours. What they think looks good and what you think looks good will probably be two different things, but let them express themselves as individuals.
When they're 17, encourage them to take driving lessons, even if it means you paying for them. Having a driving licence will certainly make them feel more adult, having passed a major milestone away from childhood and dependence. It might also eventually become a factor in them landing a job, and is a passport to the freedom of the road (although insurance is going to be high).
Above all, give them more privacy. Let their room be their sanctuary. Don't go in without knocking and receiving an answer. Let them feel they have a place where they can retreat away from everyone, including you. Allow them to decorate it as they wish, even if it's not to your taste. It's their space, and makes them feel it belongs to them, not you.
Emotional Growth
Although most of the elements of their personalities will be in place before they become teens, the adolescent years are when they really assert themselves as individuals. They're rapidly on the way to adulthood, so treat them that way. Include them in more adult discussions, anything from politics to the price of petrol, and listen to what they have to say. Don't belittle their opinions.
There will be tough times for them along the road, that's the nature of growth, so be willing to offer support to them. When they want to discuss something, make the time to do it, and really pay attention. It can take a lot for them to open up, so value it when they do.
When they do things or take stances you don't agree with, keep quiet. Let them try on those different clothes of attitude and behaviour, as long as they stay within the boundaries you've set. Give them room to roam. You might fear losing them, but if you give them their head, they'll come back to you when they're ready.
Make them feel secure at home, that it's a place they can always return to and feel safe. Simply loving and supporting them can do that.
You might also like...