What to do if There's a Gang Problem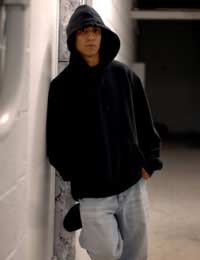 Gangs, everyone will agree, are a blight on modern life. Originally an American problem, they've mushroomed over here, especially in the inner cities. According to a Channel 4 study, there are children as young as five years old joining gangs, and half the gun killings and fully a quarter of gun crimes in the UK in 2007 could be attributed to those under 18. Knife crime, especially among teens, has soared, and innocent teens can be attacked for simply walking harmlessly in the wrong postcode if a gang controls it.
That's very worrying for parents of teens. With the number of gangs and the level of violence escalating almost every week, it seems, what can you do?
Is Your Teen In A Gang?
It's a question most parents don't even want to contemplate, let alone ask. But many are, and not just boys, but girls, too. If your teen's school work has gone downhill, if they're staying out later and won't say where they've been, don't want to introduce you to their friends and seem to have undergone a change of attitude, becoming harder, more aloof and less friendly, there's the possibility they might be a gang member – or crew, as they're often known. In some instances particular items of clothing can identify gang members.
Not all who act that way are, of course – it could just be a teenage phase. But the best way to find out is simply to come out and ask. Some will be proud of the fact and flaunt it. Others, naturally, will deny it all, in which case you'll need to do a little detective work to discover the truth.
If they are gang members, you need to lay the unglamorous truth about gangs out before them, the statistics on violence and death – the figures are terrifying, and quite easy to find. Tell them, quite bluntly, that you won't tolerate any gang insignias or behaviour in the house. Be plain that you won't tolerate knives or guns in the house, either, even if they claim they need them for protection.
The problem, of course, is that they might just hide the weapons outside the house, and there's little you can do about that. Try to discover why they joined a gang. It could be to belong, it could be out of fear, or any number of reasons. Your job is to move them away from that culture.
Talk to the police. If your teen is in a gang, that means the gang is in your neighbourhood or local school. Talk to neighbours, talk to the head teacher, talk to the council. Become an activist to try and stamp out the gang in your community. It could help save your teen's life.
If There's A Gang In The Neighbourhood
Gangs operate everywhere. You might find more of them in inner city areas, but they're not isolated there, by any means. How do you know if there's a gang in your community?
Increased graffiti and tagging on walls can be a good indicator, along with an increase in street crime. Just because teens hang around somewhere, though, don't automatically assume they're a gang; in the majority of instances, they won't be, they'll simply be kids talking and having fun.
If you suspect there is a gang, ask your teen. They'll know. If one exists, talk to the police, and ask for increased patrols. Talk to shopkeepers in the community, community leaders, teachers, and those in the neighbourhood watch. If everyone works together, you can eliminate the gang problem in your neighbourhood, which will keep your own teen a lot safer.
You might also like...
@Kidsmum - If your daughter called the police to help her, then try to help her they will. In order to be able to bring individuals to justice and to prevent other crimes by particular individuals and keep other people safe they need as much information as possible. If your daughter hasn't given names then the gang members may not be able to be brought to justiceand will carry on doing what they do - I imagine that's why the police are pressing her. It is a criminal offence to intimidate anyone helping the police in an investigation, therefore your daughter will have police protection. It's a brave thing to name names so her reticence is understandable but in order for the police to be able to help she has to help too. Han.
JLOH
- 31-Jan-17 @ 10:09 AM
My daughter had some contact with gang members and she went off the rails a bit. She has had thw police here at our house i thought they were here to help her but they are now relling her they want gang members names and they are constantlycalling to our house asking her for names which ahe is not willibg to give. What righta does ahe have? She has had no cobtact with anyone for a month now
Kidsmum
- 30-Jan-17 @ 9:17 AM