Changing Relationships With Parents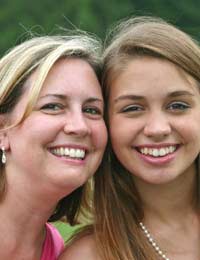 Moving into the teenage years is an exciting time for young people, but it also brings with it a host of new experiences and feelings, which may cause changes. One of the ways in which teenagers can change is in their relationships with other people, including their parents.
It's always good to see your children growing up and maturing, but as they move into the teenage years, there may be times when it's hard for you, as a parent.
Growing up often means changing too, and one of the ways in which changes can frequently be seen is in relationships with other people, including friends, siblings and parents.
Where you used to be very close to your teenager, or they used to happily talk to you about things going on in their lives, they may no longer want so much to do with you (especially outside the home) or want to chat so much anymore.
Teens may also begin to get a bit embarrassed by you, their parents, and no longer want to interact as much with younger siblings, thinking them 'babyish.' When you're out and about as a family, they may no longer be happy to walk alongside you, often tailing along behind or in front of the family group.
Communication may cease to be quite so fluid and, instead, simply questions that once produced chatty and friendly answers, may instead be replied to with gruff, one word answers or mutters.
Why Do Changes Occur?
As hard as it is to deal with this (and most parents will have felt saddened, hurt or disappointed at one time or another over their relationship with a teenager), but it's normally not a reflection on your bad parenting skills, but more a sign that your teen is growing up. It's not that they no longer love or care for you, but that they're asserting their independence, want to move on and not rely or depend on you so much.
Hormones play a part too, as teenagers are subject to a wide array of changing hormones and emotions. With such a barrage of hormones affecting them, it's no wonder they can become snappy or distant with other people – and parents are often on the receiving end of most of it.
What Can You Do?
The main thing is to not take these changes too personally when they occur. Your teenager is growing up and trying to assert his independence and not rely so much on his parents as he used to. The chances are your friends are having the same issues with their teenagers too, even if they've not publicly declared it yet.
As a parent, you can do your best for your teen by supporting them in all they're going through and by trying to give them the space they need. For example, if they're having friends around and would like some privacy, then provide it (within limits) or be willing to let them go off and explore on their own on a family day out, rather than having to stick near you all the time.
Some behaviour and attitude changes are certainly normal, but if your teen changes quite drastically and you're concerned, then do chat to them about it. In most cases, they will probably be fine, but there's no point worrying if you think something more serious could be underlying their change.
You might also like...
Why is it that society (?), mental health/medical professionals and those in various branches of social work whose function is "supposed" to be Protecting Children do NOTHING to help children who are/have been severly & continously psychologically/verbally/emotionally abused by their parents??!! Even with research confirming the "long term" & often debilitating effects of such abuse? I've spent much of the last 6-10 years trying to convince someone, ANYONE(!!) to listen, believe and help my beloved granddaughter, now 16, to no avail. And cps? That is a useless place where some misuse their authority while others opt to stay out of court & quickly close files without concern for the emotional safety of the broken children they send back to a hell few can truly understand!!!!:-(
Ms. K
- 26-Apr-17 @ 6:59 PM