Changing Relationships With Siblings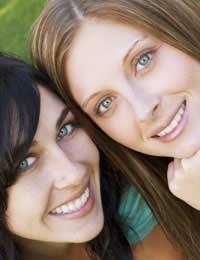 As your child grows year by year and makes the transition from being a child to being a teenager, it's likely that they'll also experience some changes in their relationship with siblings too.
Having siblings is great for children, especially if they're relatively close in age or share interests. Although there may have been some degree of squabbling and falling out at times, which is only normal, many siblings do get on well together, enjoying company when playing games or having someone to boss around!
Same sex siblings may enjoy sharing toys or accessories, such as hair clips and bags, and may share friends too. But as children get older, it's only natural that their relationships with their siblings undergo some changes, especially as they enter the teenage years.
What Changes Might Occur?
For a teenager, one of the biggest changes occurring for them, and not for younger siblings, is a change in their hormones. As well as experiencing changes in their body, their hormones are raging, which can affect their mood. Whilst they may have previously been happy to tolerate and play with younger siblings, when they enter the teenage years, they may be less likely to want to.
For younger siblings, it's hard to suddenly find that a long-term playmate is no longer happy to cooperate with games. But it's not always a teenagers fault that they don't feel happy to do so, as their hormones can affect their mood and they may be grumpier than usual.
During the somewhat turbulent teenage years, it's also common for teenagers to reassess their views and opinions, often trying out new ideas and developing new aspects to their personality. These are all positive changes, but can come as a surprise and often a disappointment for younger siblings, who just want the same old sibling to remain, rather than a new, improved or different one.
Where they may previously have spent lots of time with the rest of the family, a teenager may now value their privacy and want to spend more time on their own, which can also be hard for a younger child too. Plus, who they want to spend time with may differ, as where they were previously happy to spend time with younger friends of the brother or sister, they may now exclusively want to be with people their own age.
All of these changes can be hard on a younger sibling, who's grown up having an older brother or sister to play with in the evenings and weekends.
What Can You Do?
As a parent, you can do your best to help both parties by trying to explain the changes that are occurring. For example, if you're talking to the younger sibling you can chat about what's going on with their teenage sibling, emphasising that it's not anything they've done that has changed their brother or sister, but is just part of growing up. It's good to discuss the importance of letting them have their own space when they want it, but that they'll still be there for them sometimes.
Teenagers may need a reminder now and then to remember the feelings of their younger siblings too. It's all too easy to be totally caught up in their experiences and forget or overlook the feelings of their family. Remind them that their younger sibling would like to spend some time with them too, misses their company and doesn't understand what the teenager is going through.
Above all, as parents, you can be there to support all your children, whatever their age and whatever experiences they're going through. Having support is one of the crucial elements that helps everyone through new and difficult times.
You might also like...
Siblings inevitably develop different, often very different, personalities as they grow and you have to take this into account. One might be loud and lively, the other quiet and reserved. You have to make allowances for their differences and be able to cater equally to both of them, even if it's not easy.
Jeff
- 4-Oct-12 @ 10:57 AM