Dealing with Your Teen's Friends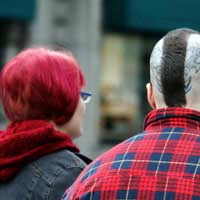 As your child grows into a teen and becomes more and more his or her own person, the circle of friends around him is probably going to change. Some old ones will be dropped and new ones taken up. Your teen will run with different crowds.
The problem, of course, is that you might not like some of their new friends – it could be for a variety of reasons. In some cases it might well be more than just dislike, you might find them to be a bad influence.
But what can you do about a teen's friends?
Don't Voice Disapproval
The worst thing you can do is to criticise your teen's friends. Given the moody, contrary nature of teens, which is really only their way of becoming more independent, you'll just drive them all closer together.
That doesn't mean you have to approve of them, by any means. But if at all possible, learn to keep your mouth closed on the matter; it'll save a lot of arguments. If asked, give your opinion judiciously – don't provoke things, but there are still ways you can make it clear you don't approve.
The chances are that your teen will try on different sets of friends through these years, learning what works and what doesn't, so silence can be the best course. Often, like a phase, these friends will pass.
Certainly you shouldn't say anything if your teen starts dressing like a Goth or punk and takes up with similar people. Again, it's a costume. Inside the teen remains the same person, just with black nail polish and stranger clothes. See them for who they are, and the same applies to their friends. They're all just kids, growing up rapidly and trying to find their way and their place in the world.
Don't try and steer them in particular directions. Asking why they don't invite an old friend round any more can be seen a form of subtle pushing, and it won't work; they have to make their own decisions a lot of the time. Do encourage them to have new friends over, though. Not only does it give you the chance to meet them, but it makes your teen feel more accepted at home, in a time when feeling alienated is common.
When You Worry About Friends
The problem will come if you believe your teen's friends are leading them into bad habits – maybe drugs, maybe crime, or excessive drinking. At that point you feel you need to intervene, but doing so is going to cause a fracture between you.
Remember, your teen has a whole life ahead. If these problems are new, doing something about it now can leave a clear path in front of them. Wait too long and it could become too late. You have their welfare to put first. Even if it does cause arguments, you're doing it for their welfare, not your own.
How do you achieve it, though? You can try reason and conversation. In some cases that will work, but in many more, you might as well be talking to yourself. Grounding your teen might be effective with a few, but again, many will simply defy the ban, making things worse.
If you truly believe things are bad, to the point of danger, then get help to intervene. In the case of crime, talk to the police. It won't be easy, but they should be able to offer advice, or even do something themselves. In other cases, counselling can offer a solution.
It's a difficult choice to make, of course, but if you truly feel it's necessary, don't hesitate. In the long run, your teen may well thank you.
You might also like...
I really need help re my 16 year old son who has left home,pls!
Desperate,
- 2-Nov-11 @ 5:20 PM
why don't you have a secion for bullying & being isolated from core friendship group?
bubbles
- 26-Jun-11 @ 6:09 PM