If Your Teenager Is Gay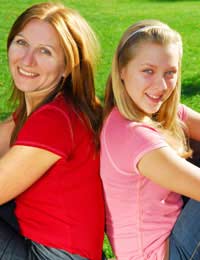 Many of us live in what we believe to be a completely heterosexual world, where gays and lesbians are simply people on television. We're wrong, of course. Everywhere we go, every single day, there are gays and lesbians; we simply don't realise it. There's nothing obvious to mark them out, and for the most part we can interact with them and never tell – and it really doesn't matter.
But how would you feel if one of those gays or lesbians was your teen? Given that the incidence of homosexuality is believed to be about one in ten, it could be. If you found that out, what would you do and how would you feel?
Is My Teen Gay?
Beyond inclinations towards the same sex, there may be no obvious markers that your teen will be a gay or lesbian. Even then, because of societal conditioning, for a number of the teenage years they might live a very straight life, even dating the opposite sex, until they find themselves – they might not even completely realise they're gay until they're older.
One thing you can do, if it's possible, is to voice approval of homosexuality. That way, if your teen is gay, he will feel more comfortable discussing it and opening up to you. The louder your disapproval, the more firmly that closet door will stay closed, and you'll be cut off from an important part of your child – their sexuality.
Coming right out and asking might bring a truthful answer, if the atmosphere at home seems accepting. But be wary of it as a tactic. If you discover, for instance, that your teen has been visiting gay or lesbian websites or porn sites, it's a strong indicator they may have gay feelings. Be very careful of confronting them with it, but edge around the subject, and give them the opportunity to open up – if they wish.
With younger teens, sometimes just asking can be the best way, especially if you have a good bond. If they do tell you, it gives you more chance to protect them (and for them to protect themselves) from the homophobia they'll encounter.
How Do You Accept It?
If you really love your teen, accepting them as they are should be natural, although it might take some time for you to come to terms with this discovery. Remember, they're still the same, and so are you. All that's changed is that they've trusted you with a piece of knowledge.
It can be a shock for you, and it can take you time to come to terms with it. That's fine. Take the time. The one thing you can't ever do is reject your teen for their sexual orientation. They are who they are. Don't write it off as just a phase. Accept it. You might have to ask them to limit their behaviour with dates around you, for instance (and treat their dates as you would a heterosexual date), but be actively there for them.
Should They Come Out?
Coming out is a major step for anyone, but especially for a teen. It takes a lot of courage and a leap of faith. You have to stand with them and help them. Do you tell others in the family? The answer is no, not unless the teen allows it. Who knows has to be for them to decide.
They may feel their peers will be accepting of the fact, and if they're deciding whether to come out at school, you'd better sit and talk to them. Other teens can be very unforgiving, and there's a good chance they'll face harassment and bullying if they openly declare themselves to be gay. It shouldn't happen, of course, but it does. Urge them to think long and hard first, but if it's something they feel they have to do, make sure you offer very active support.
If they run into problems, take their side, and, if they want you to, contact the school and demand it takes action. If your teen approves, it could be useful to also contact the head teacher and tell them of your teen's sexual orientation, something they can share with a few trusted teachers. It could end up defusing situations at school.
Will other member of the family understand? Some will, others…well, perhaps some won't. Not everyone has to be told, by any means. Obviously, if the immediate family knows it's for the best, including brothers and sisters, but beyond that, you and your teen should discuss whether it's necessary at this point to tell certain relatives who might have homophobic views.
You might also like...
HELLO CHRIS I JS READ YO COMMENT N I WUD LIKE TO SLEEP WITH YO DAUGHTER IF THATS ALRIGHT JS SEND ME HER ADRESS , ILL BE THERE IN NO TIME, SEE U SOOON, IM GAY TOO BTW
CHRIS DAUGHTER BOYFR
- 5-May-23 @ 10:40 AM
Coming out as a teen can be incredibly difficult. People might be more accepting in general than they used to be, but teens can also be terribly cruel. Unless there's a great deal of support from friends in school and also the teaching staff, it's something that should be discussed in depth first.
judy
- 4-Oct-12 @ 9:10 AM
What if your daughter tries to act gay because of peer pressure, or because it is part of a click. she has plenty of boy friends, but sometimes I catch her dressing like a boy , because she is going to hang out a known lesbian. I know she isn't gay but she has gotten herself into trouble because she acts this way. The other problem is I dont feel it is right to have her gay friends sleep over. They all sleep in the same bed, at this rate I should open her door to the guys that want sleep with her too,,, is my feeling
chris
- 5-Jun-11 @ 12:56 PM