When Your Teen Wants to Have a Party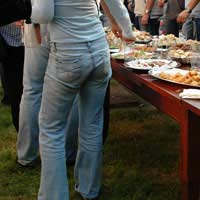 At some point or other, the chances are that your teen will host a party at your house. It might happen with your permission, or it could occur when you're on holiday somewhere, leaving your teen home alone and faced with the temptation of having friends over, and the first you learn is when you come home.
There have been news stories about teens posting details of their parties on social networking sites, leading to hundreds of gatecrashers and thousands of pounds worth of property damage, a scary thought for any parent.
It's natural for a teen to want to have a party, if only to pay back for all the others they attend. But is it possible to have a reasonable teenage party?
Trust
Trust between you and your teen is vital in many areas, and that includes a party. It's much better that you give your permission and know it's happening than having the news arrive as a shock later.
If your teen wants a party one weekend, talk about it. With those fifteen or older, it's certainly best if you're not around, but with younger ones having at least one parent there unobtrusively can be a good idea.
If you're going on holiday and leaving your older teen at home, discuss whether they can have a party, and if so, when. But whatever the circumstances, you need to lay down some rules, and discuss the reasons behind them. Additionally, pack away all valuable and breakable items, just to be sure they're safe!
The Rules
Perhaps the most important rule is that the party isn't advertised anywhere. Friends are welcome, and there will probably be unknown friends of friends who arrive, but set limits on the numbers.
A party isn't a party without music, but there are the neighbours to consider. Have your teen – not you – visit the houses on either side to explain they're having a party and that there will be loud music, but that it will be turned down by, say, midnight at the latest; that's simple courtesy. You certainly don't want the police called out because of the volume.
What about drink? Older teens are going to drink, and there's no way around that. But with younger teens, having a parent on the premises means that any attempts to smuggle alcohol in can be thwarted. With older teens – those of legal drinking age - you might consider supplying some beer as well as soft drinks and snacks – for younger, the same but without the beer.
Teenagers are discovering sex, and a party can be an ideal atmosphere for further exploration, especially after a few drinks. Obviously, you can't eliminate it, but do all you can to discourage it. Making the bedrooms off-limits – locking them if need be – certainly helps. No one can guarantee it won't happen, since where there's a will, there's a way, but you can make it more difficult.
With drugs, there's one simple answer – no. If other teens want to take drugs, there's little you can do about it, but impress on your teen that you won't tolerate it in your house, and make sure they impress that on their friends.
Gatecrashers and Violence
People gatecrash parties, and if your teen isn't the one answering the door, they often get in. It's not an ideal situation, but it happens and there's little to be done about it, unless they cause trouble.
Violence, too, can occur. In both instances, unless it can be quickly defused, encourage your teen to call the police. It's better to have them there, taking care of things, before events escalate to tragedy.
Point out to your teen that having a party means responsibility, that you expect them to act responsibly and if they don't, you'll take appropriate measures. At the same time, if something happens that's beyond their control, don't penalise them for it.
Well planned, parties can be wonderful, and bring great memories for your teen. Work with them to do all you can to make sure that happens – you might even be willing to let them have another one!
You might also like...