What About Pocket Money?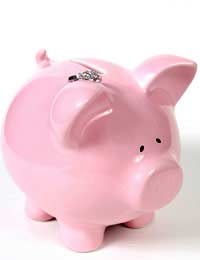 We all need money for things, as that applies to your teen every bit as much as it does to you. The difference, though, is where you work to earn yours, all too often your teen is reliant on you and the pocket money you supply.
Obviously, there's no fixed amount you should give. A lot depends, for a start, on how much you can afford, and what else you give them – do you buy all their clothes and shoes, for instance? In return for pocket money, what should you expect, or should it be given no matter what?
Some Basic Rules
While kids have grown up receiving pocket money every week, by the time they're teens they want to be seen as adults. You can just continue giving them money, but it's also a good idea to begin instilling a sense of responsibility in them, and to let them know, now they're older, that you don't receive something for nothing.
Set a list of weekly chores they have to perform to earn their pocket money. It doesn't have to be pages long, or particularly complex. You might include something like taking out (and bringing back in!) the bins, emptying the rubbish and cleaning their rooms. It needn't take long, but it's something less for you – although you might have to remind them – and involves them more in the running of the household.
There are some who would link pocket money to behaviour. It can be understandable with teens who've become a bit unruly, and certainly this carrot approach, rewarding good behaviour, has its points, but it's also a stick. However, it's probably only worth considering as a disciplinary measure if you really have a problem, and some advocates would say don't link the two at all.
Teens like to go out, and at times they'll want extra money. It's not a good idea to sub them an advance on pocket money. A far more constructive idea is to let them do jobs to earn it. They can mow the grass, weed the flowerbeds, wash the car, all those tasks you've been meaning to do but haven't found the time to accomplish. Set a fair rate of pay beforehand, but tell them you expect the job done properly. They might grumble, but there will be no complaints when they're paid.
Pocket Money and Saturday Jobs
When they're old enough, some teens will start working. Some will have paper rounds, others will take on Saturday jobs. They'll be earning their own money, but most will still feel they should be receiving pocket money from you, just as they always have.
It's a delicate issue. Since it promotes discipline and responsibility, you want to encourage the work ethic (as long as it doesn't interfere with school and homework, of course). At the same, when they're earning more than they were receiving from you, you might wonder whether you should continue giving pocket money. Sit down and discuss it – especially if your own finances are tight. See if you can arrange a compromise, perhaps with you paying for more things, while they use their earnings for items they want.
Encourage saving. In all probability, they won't receive enough pocket money to save any of it, but suggest saving at least part of their birthday and Christmas money, and part of whatever wages they earn.
When to Stop Pocket Money
As all parents know, pocket money never really stops. You'll remain the bank of parent, giving loans and gifts of cash for years to come. But once they begin work full-time or go on to university, the official weekly payment should cease. They're fully adult at that point, and by removing the support, you're acknowledging that they're old enough to stand on their own two feet.
You might also like...
I'm 14 and would like to earn a few pounds on a Saturday any where near greavesend lent
may
- 20-Sep-14 @ 1:44 PM