Teaching Your Teen About Online Safety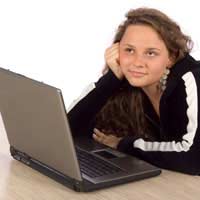 The Internet is a great technological invention, but despite its numerous positive benefits, there are dangers lurking too. Your teen will know doubt be using the Internet in some shape or form, so it's important to teach them about online safety.
It's a good idea to chat about the potential dangers of the Internet to your teen, so they understand why it's important to stay safe online. This doesn't necessarily mean a big scaremongering chat that will scare them away from ever wanting to log on (even if this means you could have more frequent access to your computer!) but a practical and thoughtful look at the dangers and why everyone should be wary and protect themselves.
Giving Out Personal Information Online
One of the issues to discuss is the type of information that should and shouldn't be given out online. Your teen may well use social networking sites such as Facebook or MySpace, write a blog or participate in chat forums. All of these methods of Internet use are great, but will encourage some degree of information sharing.
For example, Facebook and MySpace have sections where you can fill out a profile and give information about yourself, and for blogging or chatting on forums, you'll need a username and often have the chance to add in more details about yourself.
It's essential to instil in your teen the idea that it's not good to give out too many personal details about yourself, even if you think it's safe and only your friends will find it.
As a basic rule, you should never give out your full name, your address or your date of birth, as if these details fall into the wrong hands, they could be used to steal your identity. But teens should also be wary about giving out too many other details, like their phone number, where they go to school or college, who their friends are and where they live.
It's hard not to, when everyone else seems to be freely sharing these details, but you never know who could be looking at them (even your Facebook profile and photos aren't secure, unless you've set up privacy settings) or how they could be used, so for ultimate safety, it's best for teens to be wary about how much information they share about themselves online.
Who to Talk to Online
Likewise, there should be some reservations with who teens talk to online. Having an anonymous profile may seem like a good safety caution, but the trouble is that you never know if other people are being truthful about who they really are. For example, there have been many cases of adults masquerading as teens on online forums in order to befriend teens.
So although it's fine to chat to people on forums, if teens don't know who they're talking to, it's best to keep track on the public area of the forum and make sure they do not give out their email address, phone number or other means of contact to a faceless person who could be anyone.
Posting Photos Online
Another big issue that teens should be briefed about when keeping safe online is the issue of posting photos of themselves online.
These days there's a major trend amongst teens to post lots of photos of themselves and their friends on social networking sites such as Facebook. Although it seems harmless enough, as photos can be tagged with people's names, anyone could effectively find out who you are and what you look like, which really compromises online safety.
What's more, unless privacy settings have been implemented, even people your teen isn't friends with and doesn't know on Facebook could access pictures of them. It's hard to go against the trend, but your teen should be wary of posting too many photos of themselves online. Ideally, they should also discourage their friends from tagging them in their pictures, as this will slightly reduce ease of identification.
You might also like...