What to do if Your Teen Can't Find a Job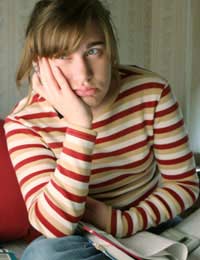 It might be that your teen leaves school, either at 16 or 18, and has trouble finding a job. That's certainly not uncommon these days for those with no or low qualifications. It can be a very frustrating time, especially if their friends are working and earning money. All they have to fill their time is TV during the day, which is hardly inspiring viewing. When they do see their friends at night, they have next to no money to spend, too.
As a parent, you hurt for them in the situation. They want to work, but what can you do to help them?
Practical Help
The obvious place to send them is the Job centre. That, along with the Connexions agency, can put them in touch with employers in the area who might be able to use them. Of course, it's no guarantee of a job, but at least it can put them on the right road. More than that, it makes them feel as if they're doing something to find work. There might be a number of disappointments along the way, but every step brings them closer.
Make sure they have the best possible CV. It really can make a difference. Well laid out and printed, it can tip the scales in your teen's favour. Also, if they appear well-dressed for an interview, looking eager, that will help them tremendously. They might say it's not necessary, but try to make sure they put on their best clothes for an interview and go in well-groomed.
Since money will be an issue for them, ensure they receive all the benefits they can, which will essentially be Jobseekers' Allowance. It's not a lot, but it's better than them having nothing in their pocket. Be understanding about finances, don't charge them rent - they can pay once they're working - and if they need a little extra from time to time, slip it to them if you can afford it. Their gratitude will be worthwhile.
If their strategies for finding a job aren't working, sit down with them, analyse what they've been doing, and help them come up with new ideas. Be a part of the team, on their side, and work with them to make it happen. After all, you're the one with experience. Share it and pass it on.
Emotional Support
Emotional support is vital if they're having difficulty finding a job. Inevitably, after a while, possibly a very short while, they'll feel discouraged. You need to be there to reassure them that they will find work, and give them a push when they need it, at those times when they might find it hard to motivate themselves.
Try not to let them become too down about the situation. Take them out for a meal and cheer them up. Contact friends to see if they know of anything. Investigate home-based businesses they might be able to run and gain some income, even if it's only part-time. All the positive steps you can take help them - and who knows, a business from home might turn into a good moneymaker.
In fact, if they have business ideas, take them seriously and investigate the feasibility of putting them into action. Some can be achieved for little investment, and there are also agencies willing to help the young set up their own business. Your teen might turn out to be the next Richard Branson!
But one of the greatest things you can do for your teen in the long-term, especially if they're having difficulty find a job, is encouraging them to go to college and gain qualifications that will help finding work in the future much easier.
You might also like...