If Your Teen Wants a Saturday Job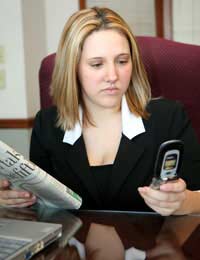 There may well come a time when your teen wants to find a Saturday job, in order to earn some money. It could be in a supermarket, a shop, labouring on a building site over the summer or just a paper round.
It's a first step towards independence, to have an income that's not pocket money and controlled by you. But it also brings responsibility. They have to be at work for each and every shift, on time (and punctuality is especially important for a paper round).
But it can be a shock when your teen comes and says they'd like to start working part-time. They're growing up and away from you. What do you do in that situation?
The Big Questions
Perhaps the most important question is whether a job will interfere with school work, because school has to be the priority. If the job is, literally, just Saturday, and they're old enough (from the age of 13 you're allowed to work a certain number of hours each week), and it can fit in with other plans, then there's no reason to say no – at least as long as the work is reasonable, the hours and pay fair, and everything is legal and above board.
However, be sure of all those factors first. Sit down and discuss things with your teen – what they'll be doing, where the job is, how they'll get there, how much they'll be getting paid. They might not even know! Before they agree to take the job, make sure they have all the details; you want to be certain they're not being exploited.
But what if the job includes some evening work, which can be the case with some supermarket jobs, for instance? That can easily impinge on homework time. If your teen is serious about taking the job, the two of you need to devise a schedule that allows for both. You need to stress, though, that you're trusting the teen to keep to the bargain and make sure the schoolwork is done before they leave for their job.
Paper rounds are a special case. They mean a commitment to working every morning or afternoon, whatever the weather, and your teen – it tends to be younger teens – might not understand exactly what's involved. Point out that it will take a special person to be up early every morning and out in the rain and snow delivering papers. They'll have to be self-disciplined – add the fact that this job is theirs, and in most instances they shouldn't be asking you to help.
When The Job Doesn't Work Out
Most of the time, there's no problem with balancing a job and school. Sometimes, though, for a number of different reasons, your teen might want to quit the Saturday job. It might not be the right job for them, or they'll feel too crowded for time, or simply be unhappy.
Sit down and discuss the reasons with them. If they're valid, not simply a passing dissatisfaction, then agree that leaving is a good idea. But insist they do it properly, by giving notice in writing and working out the full notice. Not only is that fair to the employer who took a chance on them in the first place, it helps them obtain a reference for the next job they seek. They might not be thinking that far ahead, but you should.
With a paper round, monitor your teen's performance. Do they seem especially sleepy, for example, and is it affecting their schoolwork? If the answers are yes, then they need to leave the job. Again, talk to them, point out that school comes first and the work is suffering. Talk to the newsagent, too. Your teen might insist that they can handle it, but if it's apparent that they can't, then you need to make them see that leaving is the right thing to do. In all probability, the first morning they don't have to be up early, they'll thank you!
You might also like...
@soph - Have you had a chat to her to try and explain this? You might also want to show her this article which appeared in the Guardian recently under the header; 'Saturday jobs 'can damage exam grades for teenagers', link
here
. You may want to explain to your mum that you feel it may distract you from your studies, especially if you were to begin a new job and have to learn about that job as well as study. You can then reassure her that once your exams are over you will gladly look for a job, but in the meantime you want to get the best results you possibly can. I hope this helps.
YourTeenager
- 8-Apr-15 @ 9:59 AM
I'm almost 16 but my mum keeps on pressing me to get a weekend job even though my exams are one month away,why can't she understand that I have to revise??
soph
- 4-Apr-15 @ 3:41 PM
I am 14 years old, and I want a job in hereford please x
Lou
- 28-Mar-15 @ 11:59 AM
Im 17 and i need to find a job at the weekends as im a full time student
Beth
- 22-Jun-12 @ 9:39 PM
When big exams like GCSEs or A levels are coming up, it's probably a good idea for the teen to stop work. It could be a leave of absence to revise and sit the exams then go back to work, or they could just give their notice and leave the job, as with a paper round. It's important that they have their priorities right, and most employers will encourage and understand that, because in time that person could end up as a qualified, full time employee.
Margaret
- 6-Jun-12 @ 11:41 AM
Don't you have to be 16 to get one?