Counselling with Your Teen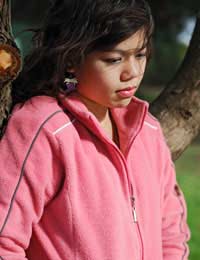 It may be that you feel your teen needs counselling, that the problems they have are beyond your ability, and that you need the help of a professional in dealing with them.
There's nothing to be ashamed of in that. In fact, quite the opposite. You're making a step in the right direction, and quite possibly doing the best thing for your teen. If you think of counselling as a bad thing, an admission of defeat or mental problems, don't.
Seeking help is a good thing, and there really are problems we can't manage alone. Counsellors are trained, qualified professionals. The odds are that they'll have dealt with situations like yours before, and in the vast majority of cases, they can help.
In fact, more than any other group, teens may benefit from counselling, because during such a transitional stage there are so many issues that bother them, and they may well find it easier to open up to someone who's not a part of their life or social circle, but who can still understand.
Issues Involving Counselling
The main issue causing parents to seek counselling for a teen is behaviour. It may seem past your control, with excessive drinking, drug taking, or doing things that simply aren't acceptable in society.
More and more, obesity is becoming an issue that counsellors are handling.
Don't feel you've failed as a parent because your teen needs counselling. If anything, it's the opposite; by seeking help you're going one step beyond what many parents would do to create a successful life and future for your offspring.
First Steps
Finding a good counsellor is an art, not a science. If you know others parents whose teens have undergone counselling, ask them for recommendations. Ask at school and your GP.
Rather than simply making an appointment, talk to the counsellor first, have a session with them. It gives you a chance to lay out the problem as you see it (your view and your teens will probably be strikingly different), and also gives your more opportunity to judge whether your teen will benefit from this particular counsellor.
Persuading your teen to see a counsellor might not be easy. They may feel it's not necessary, or feel that it'll become a stigma if word gets out. Be gentle about it, ask if they'll just sit and talk to this person. Explain that you're having problems coping, and that this will help you.
How You Can Help
Unless specifically requested by the counsellor or the teen, it's best of you don't sit in on the sessions. After all, the idea is to give your teen space to express doubts and fears on the issues involved.
However, at some point you might be asked to participate, and it can be very helpful, addressing the concerns through a third party. The thing to avoid is confrontation with your teen. Be considered in your words, but listen to what they say. If they've established a good level of trust with the counsellor, you might hear things you haven't heard before, but don't react angrily, no matter how harsh it is. Remember, these are genuine concerns on the part of your teen and need to be addressed seriously in order to help remedy the problem.
Be available to your teen. You don't need to pry into what was discussed when you weren't there, but be willing to talk openly at home, even if it doesn't come easily. It will help them become better adults.
You might also like...