Dealing with Teen Moodiness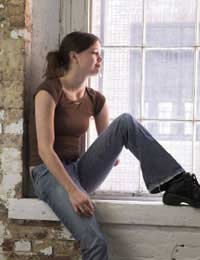 As any parent of a teen will tell you, teens are moody creatures. They can shift from happy to surly to sad in seconds, and for no apparent reason. Unfortunately, as their nearest and dearest, you have to deal with it, which can make for trying times. One minute you can be having a normal conversation and the next you might as well be talking to the wall.
Why does it happen and what can you do about it?
Why Teens Are Moody
Although teens are said to have raging hormones in terms of sex, it actually applies much more to their personalities. Those crazy mood swings are purely a product of hormones, according to studies.
They can't control it, and, just as they're baffled and confused by all the changes going on in their bodies, they're confused by what's going on emotionally, too. They don't know when their moods will change, or why, and there's absolutely nothing they can do about it.
Think about that for a minute. If the wild mood swings seem bad enough for you, on the outside of things, imagine what it must be like to be on the inside, to have a mind that seems determined to go its own way. It can be terrifying.
What Can You Do About It?
The brief answer is – you can't do anything to stop it. It's going to happen, regardless. All you can do is live with it. In a way, some of the moodiness, especially when they seem to be pushing you away, is part of the process by which they become individuals, and that necessitates rejecting their parents a little.
What you can do is make sure that you don't reject them when they're rejecting you. They don't really mean it, so make sure you stay calm and loving. Give them space, it's what they need, but don't push them away.
The time to talk to your teen is, quite obviously, when they're not in a mood. Don't get into a fight with them when they're moody. It will resolve nothing, and you'll both end up feeling frustrated and with more fences to mend.
Be supportive, not judgemental. Talk to them about school, their lives and friends, and really listen to what they have to say. If your teen wants to talk, make time, don't put it off until later. Gentle humour can be a powerful tool, helping them laugh at their mistakes, but be warned, it's easy to tip over the edge into belittling them, so be careful.
Reassure them that you support them and you'll be there for them, no matter what. It can be a time of low self-esteem, and they need that sort of back-up to help them approach the world with more confidence.
They're slowly spreading their wings and learning to fly. They need that, it's part of the process of growing up. But set limits with even the moodiest teen, and punish them if they defy those limits.
When Is It Moody And When Is It Depression?
Sometimes it can be hard to tell when a teen is just moody and when he or she is tumbling into depression. Moods pass like rain, but depression stays around. Watch for warning signs like excessive sleeping, marks slipping at school, inattention to personal hygiene and others. If you sense it might be depression, talk to your teen seriously and then to your GP.
You might also like...
Thanks guys this really helped me for my health and social work.