Disciplining Your Teen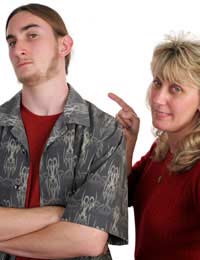 Just like children, teens need discipline, although they'd probably never admit it or even consciously think it. But, like their younger siblings, they do benefit from structure and routine, and being taken to task when they don't obey the rules. Like everyone else, they have to be reminded that rules, both within the family and in society, are part of the order of life, and that there are punishments for flouting them.
However, you can't punish a teen the way you would a four-year-old. What are the options as a parent, and what should you discipline and what should you ignore?
What to Punish
Teens tend to be a moody, sometimes surly group, and, depending on the teen, often in the mood for an argument about the most minor thing. As a parent you have to learn not to take offence or react to every little incident. It's exhausting and simply not worth it; you'll end up battling your teen all the time.
Pick your battles, the areas where you have to take a stand. Remember, part of your job is to help them take responsibility for their lives and guide them towards adulthood and independence.
Set up guidelines with your teen over what is acceptable behaviour and what is not. The boundaries will differ from person to person. You might not find excessive rudeness acceptable, for instance, where someone else might tolerate it. Decide where to set the boundaries and make sure they're firmly described and defined to your teen.
What Punishments Should You Set?
It can be easy to overreact to an incident or event and set an excessive punishment in the hope the teen will never do it again. That's never a good strategy – all you do is end up creating a climate of secrecy, where things won't come into the open for fear of punishment.
Let the discipline fit the crime. If your teen has a time to be home and is late, without notification or an excellent excuse, then refuse them permission to go out the following night. It's fair, and your teen will understand that – although they'll still complain.
Grounding them for a month simply won't work. If they've done something so bad you feel it deserves that, then you need to look at why they did and address the cause more than inflict such a harsh punishment.
Stay calm, and take the time to think before you set a punishment (but don't draw it out or say "Wait until your father gets home," for instance). Be as rational and objective as you can.
Don't use sarcasm as punishment. It's not a mature way to deal with things.
Removing privileges hits your teen where they live. Refusing lifts for a certain period, not letting them do certain activities they enjoy and refusing them permission to attend a party or see their boyfriend or girlfriend can all be very effective tools.
Be prepared to re-negotiate boundaries and limits as your teen gets older. It allows them to take more responsibility, and shows that you're willing to trust them more.
When your teen rants and raves about a punishment, don't take it personally. As with the moody behaviour, it's not directed at you, it's just an expression of frustration.
You should also be consistent. Don't let something go once then punish it the next time. If it's a rule, you need to apply it every time.
Talk to your teen about what they've done wrong, and possibly more importantly, why they've done it. Good communication can stop a lot of problems.
You might also like...