How to React to Arguments and Violence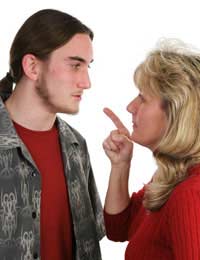 You're going to argue with your teen. Just take that as a given. It might happen often, it might happen rarely, but it will happen. As they test their limits – and test you – you'll butt heads.
Most of the time, the heat passes in a few minutes and life reverts more or less to normal. But sometimes the arguments can escalate into blazing rows and go on and on. In a few instances they can also lead to violence. What do you do then?
Arguments
It's not easy, but try to keep calm during arguments with your teen. However, it's worthwhile, otherwise you can end up saying things that both of you will regret. Accept that your teen will argue, and will make hurtful comments. Most of the time they don't mean them, it's just a reaction.
But when the arguments become more serious and deeper – which can happen out of the blue – you still need to stay calm, and, if possible, calm your teen down, too. Try to defuse the situation. Don't make inflammatory remarks. In fact, be as conciliatory as possible, with empathetic remarks such as "I see what you mean on that" or "I understand how you feel." Encourage them to talk, rather than shout.
It won't always work, especially if they have a lot of anger inside, and some teens are powder kegs of anger and frustration. In those instances, you can try walking away as a method of lessening the tension – say something like "You seem very angry, do you think it would be better if we talked later?" Ultimately, though, you can't ignore the situation. If your teen is that worked up, you need to do something about it.
If real anger is a regular occurrence, you should sit and talk to your teen about counselling. Obviously there's a problem, and an objective professional who's not involved on a day-to-day basis might be able to help discover and solve it. A number of people do have anger management issues, and if you can help resolve them before they become serious, the better your teen will be.
Bear in mind that often your teen doesn't have the emotional and developmental maturity to deal with anger, and letting it out is all they can do. There are techniques that can be taught that can help with cope with the problems.
Violence
If arguments reach the stage of violence, with your teen hitting out, either at people or objects, then it's time to seek help.
It's not normal or even acceptable behaviour, and coping with it can be difficult. The temptation is to try and calm the teen, but at this stage that's often not possible, especially if you're the one being attacked.
The best advice is to get out of there. You have to look out for your own safety. In many cases, the teen isn't attacking you personally, but simply using violence as a way to get rid of anger and frustration – you just happen to be the closest person at the time.
But it's symptomatic of much deeper problems that need to be treated. You should call the police if you believe if you're in danger, but it can often be better to remove yourself and let the anger burn itself out.
Once calmness has returned, talk to your teen about what's happened. They might not even know why they did it. Forgive them, point out that they're posing a danger to themselves, as well as others, and suggest talking to someone about it – then make an appointment as soon as you can.
Work with the counsellor and your teen wherever possible. It's a difficult, trying time for you and your teen, but working on these issues can help create a strong, lifelong bond between you.
You might also like...
Thankfully it's really rare that violence happens. The impulse can be there, but resisting it – on both sides – is vital, otherwise the bond of trust in the family is broken. If you do feel like hitting your teen, walk away. Say nothing. Go outside for a few minutes until the feeling passes. It might seem like giving in but it's much better than the alternative.
Cathy
- 3-Oct-12 @ 1:18 PM