Signs of Problem Behaviour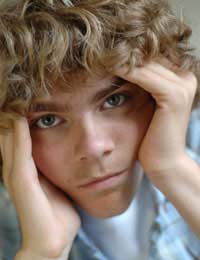 Teens can be moody, angry and rebellious, among many other things, and parents become used to dealing with lightning-fast changes in temperament. In fact, parents can become desensitised to what might really be going on because of all this. What's written off as just teenage behaviour can be making something deeper, darker and more dangerous – serious depression, for instance, or heavy alcohol use or drug taking.
But how does a parent distinguish between teenage behaviour and problem behaviour?
The First Warning Signs
First of all, there can be many warning signs, and it's impossible to offer a complete list, it will vary from person to person. But these general indicators can at least raise red flags, meaning a parent should talk to their teen and to others – teachers or doctors – who might be able to help or give more indication as to what to look for.
They might seem erratic to you, but your teen will have routines and habits. If these suddenly change in any drastic manner, that could well be a warning that something is going on. The same applies to sleep. Teens like to sleep, and staying in bed until midday on the weekends isn't uncommon. But if that begins when they've generally been early risers, and they don't seem to be keeping especially late hours, keep your eyes open for something wrong.
If their schoolwork goes downhill, and especially if they begin skipping school, there's probably something going on in their lives that you need to address. Apart from the legal obligations of making sure they attend school, it forms a central routine in their lives and provides them with the education they need for the future.
Teens can be very private about their activities, but if the secrecy seems excessive, if they lie to you often about what they've been doing, or if they take up with new friends whom you think far from suitable (and not just because of their appearance), it should be a cause for worry. It could be an indicator of bad things happening.
Real Danger Signs
Even excellent parents can miss warning signs if the teens are tricky enough. However, if things escalate, you can still spot it early enough to head off real disaster.
If you find drugs or things associated with drugs (if you don't know what those might be, it's worthwhile educating yourself on the subject) around your teen, you need to take immediate action before it goes too far.
Similarly, if they don't shower for a week, for instance, or wear the same clothes for days on end until they stink, then something is definitely wrong. Talk to them and seek help for them.
Behaviour can give great clues. If they suddenly appear reckless, don't care about anything, whether they're destructive or self-destructive, find help for them immediately – that's especially true in cases of self-harm, such as cutting themselves or being truly threatening. If the behaviour has veered far from the person you knew, it might well be because they need help for different issues.
If you find that your teen has weapons, such as a knife or even a gun, don't be afraid to call the police. You might feel you're betraying them, but in the long run you'll be doing them a favour.
The teenage years can be difficult, more so now than when you experienced them, and there are many pressures on teens that didn't exist before. They react to them in different ways. Watching them, and getting them help when they need it, is the act of a loving parent, not an interfering one.
You might also like...