Discussing Sex with Your Teen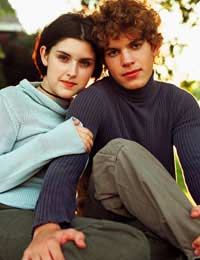 If there's one conversation that both parents and teen approach with trepidation it's a talk about sex. However, don't let your dislike for the discussion keep you from imparting information that your teen needs to keep him or herself healthy and safe.
Discuss, Don't Lecture
Teens hate lectures, and they get enough of them in their lives that they know exactly when to tune out if they think a rant or rave is coming. Avoid this inattention by making sure that when you broach the subject of sex you keep it a conversation in which both parties participate. Have a few generic questions ready ("Are kids at your school having sex?" "What do you think of teen pregnancy?") to draw your teen into a discussion and don't interrupt them as they give their answers. Even if what they say surprises you, strive to stay neutral and explore all of their answers without any preconceived notions about what your teen is telling you.
Impart Information
Don't allow your discussion to turn into an interrogation, so make sure that you have information ready to give to your teen regarding safer sex. If your teen thinks that (s)he will have to answer personal questions (s)he may not be comfortable answering then (s)he may not be as receptive to the conversation. Strive to give information that will empower your teen and allow him or her to make informed decisions in the future. Don't delve into personal details about your own sexual experiences, and don't become emotional if your teen does tell you something or voice an opinion that you don't like. Instead, attempt to counter any questionable statements with the facts about sexual health so that you can both leave the conversation confident that you both understand sexual health and safety.
Focus On One Topic
It might seem like having a single conversation in which you touch on all aspects of sex is the best idea – after all, that way you don't need to work up your nerve to have a second, third or fourth discussion. However, the second, third or fourth discussions are exactly what keeps parents and teens on the same page regarding this sensitive topic. Clearing the way for future conversations also keeps the lines of communication open for teens to approach their parents if they have questions or concerns that weren't covered in previous talks. To this end, focus on one topic at a time during each conversation and repeatedly tell your teen that you are always available for future chats. Then, make good on your promises and periodically broach new subjects when you feel the time is right.
Keep A Sense of Humour
It's almost 100% certain that your teen will display some negative emotions during a conversation about sex. Whether it's exasperated sighs, smirks and laughter or eye-rolling and fake shudders, at some point your teen might descend into theatrics that could send the whole conversation off track if you let them. Instead, take it all with a grain of salt. Keep your sense of humour and not only will you be more likely to stay on topic but you might just find that the horrific conversation you were expecting never truly comes to pass.
You might also like...