Discussing Sexuality with Your Teen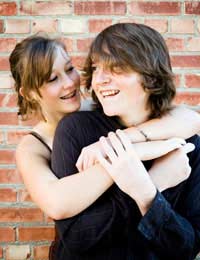 Many parents understand the importance of discussing safer sex and sexual health with their teens, but far fewer consider discussing sexuality with their teens. Perhaps this is because parents think there is no need, or because they are unwilling to discuss anything beyond what is absolutely necessary to keep their child healthy and safe. Whatever the case, teen sexuality is an important topic and one that parents should consider talking about with their teens.
Teen Sexuality
"Sexuality" is a term often used to describe only an individual's sexual orientation but it also includes much more. Sexuality encompasses all of the sexual thoughts, feelings, behaviours, preferences and development of an individual. Obviously sexuality is a very private matter, one that rarely requires justification or defence to others. However, parents should consider bringing up the topic of teen sexuality so that their children understand that it is not a topic that is off-limits, and in fact is one that their parents are happy to discuss.
Private Discussions
Very few people would feel comfortable discussing their sexuality in front of a large group, so don't expect this of your teen. If you would like to talk about sexuality, do so in a private setting and be prepared to discuss topics that you may never have even heard mentioned in front of your teen before. There will no doubt be a steep learning curve to these discussions in terms of finding out what you are comfortable with, what your teen is comfortable with, what you can joke about and what you can not abide talking about, but in order to have an open and honest relationship with your child you'll need to confront this challenge head-on.
Remain Open
Not only is it imperative to remain open during discussions of sexuality, but it is important to remain open after they close as well. Parents who abruptly end a conversation send the signal that they are uncomfortable and therefore unwilling to talk about this subject matter. However, parents who do their best to answer questions, talk about sensitive topics and encourage their children to come to them when they have new thoughts or questions send the signal that not only are they doing the best that they can but that they want to help their children as they navigate this often rocky road. There is a fine line, however, between remaining open and pressuring teens to talk about something they prefer to keep private. Parents will need to find this careful balance for themselves.
Remain Honest
Sexuality is a topic about which most people have strong emotions and opinions. It is an intensely personal topic, but parents who remain honest about their own views are ultimately more helpful than those who remain shadowy. Even if a parent's views clash with their teen's, by remaining honest at all times both parties can at least know that they are affording the other the respect of revealing their true thoughts and feelings.
Discussing sex and sexuality with teens may not be the highlight of a parent's life but it is something that every parent should consider. The teenage years can be a confusing time, and despite the fact that modern society often seems saturated with sex our teens still need someone to guide them through this chaotic world.
You might also like...