What to Do When Puberty Arrives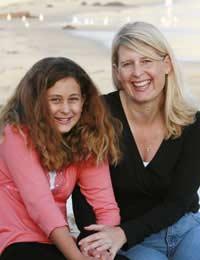 Puberty…it's the great divide between childhood and the teenage years, although, in fact, it continues through most of those teenage years. It's physical and emotional, and it can be scary for those going through it.
Your kids will have been prepared for it by lectures and films at school. But knowing what's going to happen, and having seen it in older siblings or friends doesn't really make it any easier for those in the middle of it. The body's changing in very visible ways, and there's no control over that. But with all the hormones racing around, kids are growing and changing mentally, too, and nothing anyone can say can prepare them for that.
As a parent, you're caught in the middle. You want to help, but in some ways you can't. However, there are things that you can do.
The Physical Changes
These days puberty begins at a younger age and many kids will experience a lot of it even before the teenage years. For girls the breasts begin to grow, the body shape starts to change and menstruation commences. For boys it's hair growth, a rapid rise in height and the voice breaking.
As a parent, you see all this starting to happen. That's the time to sit down with your teen and go over what will change and how. Yes, they'll have heard it all in school already, but it's different when they start to feel it, and home is the place where they feel secure. Remember, they're not in control of any of this, and they're certainly not emotionally developed enough to handle it. You can be their rock, assure them that it's perfectly normal, that they're not turning into freaks and help them be ready for what lies ahead.
That's especially important for girls, since there's really no telling when menstruation will start. They'll be caught unawares, but if they know exactly what to expect and what to do there'll be far less of a sense of panic.
The more you can do to help your kids prepare for all this, the easier a time they'll have, and approach the inevitable changes with more confidence. You'll see your babies rocket up and gradually change into adults before your eyes. For them it can be a remarkable process, for you it can be sad, all a part of them growing up and letting go. But it's life, and there's nothing to be done about it except love them and help them.
By the time teens are around 14, most of the major physical changes will have happened. But the process hasn't ended. They'll continue to grow, and in the case of boys fill out much more, until their late teens, so be prepared!
Emotional Changes
As if the physical growth and changes weren't quite enough, there's a strong emotional component, too, the one that leads to the moodiness of teens. In some ways that can be much harder for parents.
The best thing you can do is offer your support, be available to talk and, if asked, give your advice. However hard the time is for you (and some teens can make it very tough indeed), remember that it's even harder for your teens.
Puberty is such a confusing, troubling time for teens. Be patient, and give them positive comments about their appearance and looks, since they'll need it more than ever before.
You might also like...